Gananoque Boat Dinner Cruise 2019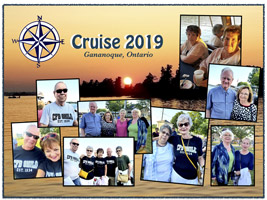 Cruise 2019
SHILOBRATS got together again this summer, this time for a Gananoque Boat dinner cruise.
First, most of us met at the Howard Johnsons hotel for a meet and greet, before taking the shuttle to the boat launch.
It was a lovely trip with entertainment and some dancing, some viewing of the sunset, some prize giveaways and a great meal complete with dessert!
We shuttled back to the hotel (after withstanding an onslaught of mosquitos), and had a nightcap in the hotel lobby, including more looks at the Reunion books.
We met for breakfast the next morning, said our goodbyes again, and headed back to our lives. A great get-together, and full of promises for more of the same.
Reunion 2018 Special Edition coffee table book
It started as an inquiry from a Reunion 2018 attendee, "When I looked at the Reunion 2018 photos and stories on our website, I enjoyed the Special Edition Edith had created. I asked her would it be possible to print a copy of the Reunion 2018 story" - Judy Rioux (Hummel)
With a little research, we learned that it could be produced as a coffee table quality book from your local Costco photo service. A test copy was made for evaluation, and Wow! take a look!
Vancouver Island 2019 Shilobrat Mini-reunion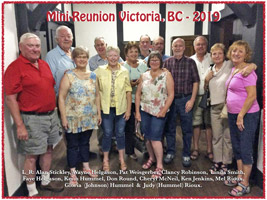 2019 Mini-reunion
Sometimes when visiting Shilobrats come to Vancouver Island, the call goes out for a gathering. This August the gathering was at 'happy hour' in the Waddling Dog Inn on the Saanich Peninsula just outside Victoria. Sixteen Shilobrats and spouses came by from all parts of Vancouver Island, the Gulf Islands and Vancouver to join in … It was a very 'happy hour' indeed!
ShiloBornBrats
Shilo was a special place for many of us in our early years, and for some, Shilo is a special place because you were born there, or in Brandon to parents posted in Shilo.
ShiloBornBrats has been created to give recognition to our home grown brat pack by assembling a page of trivia for each year we have a ShiloBornBrat name for.
If you or a brother or sister were born when your family lived in Shilo, and your name does not appear in that year, please contact ShiloBrats to be included, your name and year will be added.
*Updated ShiloBornBrats pages for the following years: 1948, 1949, 1951, 1961
- September 24, 2019
Thank you for continuing to support ShiloBrats.com